About Grote
Our History
The average person has probably never heard the name Grote. It's not a common household name like Levis or Coke or Xerox. But the fact is, millions of people throughout North America and the world benefit from the innovation and design excellence of Grote products.
Today the road is filled with cars and trucks using Grote lighting components. The nation's highways are safer thanks to Grote safety systems. In fact, Grote pioneered many of the manufacturing processes that we take for granted today in America.
William Grote started our company at the turn of the 20th century. Our legacy of original thinking and visionary leadership was established by our founder. Early in the life of the growing young company, William Grote demonstrated his capacity for innovation. While exploring Europe for new technologies, Grote brought the first plastic injection molding machines to the USA. Shortly thereafter, Grote became the first producer of plastic products in the United States.
During the 1920's, our company shifted its focus to making products for the automotive market. At that point, Grote embarked on a program of research and development that has led the industry in vehicle safety equipment. Not content to simply follow the trends, Grote helped define the direction of automotive lighting and design, setting the pace for better methods and higher standards of safety through a continued commitment to innovation. William Grote's prophetic view of the future still guides and influences our company today.
Our Locations

Innovations
1922 - The nation's first injection molded plastic products
1929 - First fully automatic plastic injection molding machine
1929 - World's first retro-reflective reflector, the universal basis for today's reflectors
1936 - First commercially available injection molding material
1965 - Invention of the Turtle-Back Marker Lamp, the Industry's first all non-metallic lamp
1965 - Industry's first no-splice wiring system
1977 - Industry's first repairable, long-life lamp
1983 - World's first modular trailer wiring system, UBS
First LED marker light (1989)
1998 - First refrigerated trailer fluorescent lamp
2001 - First HID/HIR headlamp for the heavy truck industry
2002 - First solid state, electronic turn signal switch
2002 - First LED license plate lamp with active reflector optics
2003 - First manufacturer in the industry to receive TS16949 Certification
2003 - First LED Side Turn Compliant in all 50 States
2004 – First LED Forward Lighting on the road
2005 – First all LED Military signal lighting
2006 – First all LED Military interior tactical lighting
2007 – First all LED High Powered Driving light (Exceeds HID)
2007 – Introduction of the next generation J 560 Ultra-Box Receptacle
2008 - Introduction of LED WhiteLight™ exterior work lamps and interior dome lamp
2008 - First all LED tactical interior lighting offerings
2008 – Introduction of Infrared Motion-Activated LED Interior Dome Lamps
2009 – Introduction of LightForm™ Technology
2010 – Introduction of the Trilliant® 36 LED WhiteLight™ Conversion Bulb, which converts Par 36 Incandescent Lamps to LED
2010 – Grote starts manufacturing their own coil cords
2011 – Introduction of MicroNova® DOT marker lamp
2011 – Introduction of Trilliant® Cube LED WhiteLight™ work lamp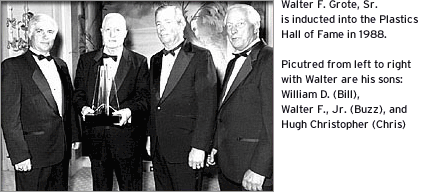 Mission, Vision, Values
Mission
To light the way through innovative solutions developed in an environment that supports challenging work, continuous learning and improvement, open communication, and celebrating our success within a culture of trust, respect, and accountability.
Vision
To be the global leader and preeminent business partner for innovative visibility solutions
Values
Safety – We are committed to the health, safety and wellbeing of our team.
Quality – We expect our employees and suppliers to do the right thing, the right way, the first time.
Respect – We treat everyone with dignity and respect.
Integrity – We operate at the highest ethical standard. Our word is our promise.
Customer-Driven – We strive to exceed the expectations of our customers. Everything we do is a catalyst to drive our customer's success.
Family – Grote is a family, a global team who works together to achieve common goals. We will attract, hire, and retain highly skilled talent to join our family. We are committed to the growth and development of all our people.
Responsibility – The Grote team and our partners have a responsibility for creating value for our customers and for our company.
Innovation – Is the source from which we will provide solutions. We will leverage technology and LEAN principles to bring about innovative ideas for our customers and for each other.
Change – Our personal and corporate success requires that we be flexible. Not only must we adapt to change but we must also help to bring about change.
Community – We are committed to the communities in which we live, work and play.
Environment – We are committed to our environment and the responsible use of all its resources.